Collecting, Packaging, and Shipping Sphaeromatid Isopods
NOTE: This page is incomplete. Please contact us for details.
Collecting Techniques
Shore or Intertidal
Coral Reefs
On Heron Island the outer reef flat at low tide around the inside of the reef crest, the reef crest itself and outside the reef crest will provide good returns. There is a lot of dead coral, and also compact columnar Acropora which is productive. Loose small coral rubble in areas of active water is often good, as is that which is overgrown with algae. Coarse mobile sand in runs or spills, on or off the reef crest and slope, could also yield interesting sphaeromatids.
Around the reef crest there should be no difficulty in obtaining at least Neonaesa rugosa, Dynamene curalii and some Pseudocerceis. Sub-tidally on the reef slope there may be Oxinasphaera, though these do seem to be associated with sponges, as well as Cilicaeopsis whiteleggei.
On the island itself sand will yield little. However there is a long stretch of beach rock along the Research Station side of the island. This forms plates, and in the crevices, quite high up on the shore (look all the way) there should be colonies of Pistorius and Dynamenella ptychura.
The best option would be to sort rubble samples by picking out all the isopods seen and putting them into 95% ethanol.
When diving Niel uses a 20 litre paint bin. Yellow is good as it is easy to see underwater. Niel uses two smaller buckets for rubble and coarse sand samples. Regina prefers a plankton net or a cotton sack to collect rubble. On the reef flat one needs only one bucket and lots of plastic jars or whirltop bags as one can process the samples into jars or bags out on the reef and then sort in the lab later.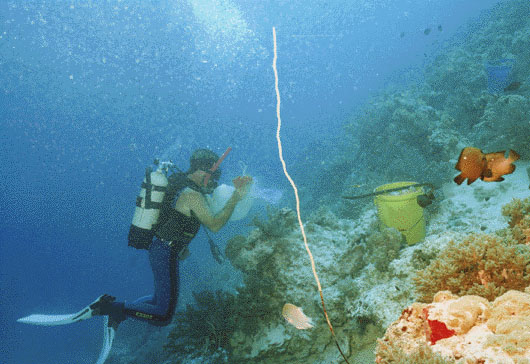 Niel in action, on Mnemba Island reef, Zanzibar.
Fixation and Preservation
Packaging and Shipping







:: Site design: Kimberly Townsend :: Logos: Michelle Schwengel :: Site infrastructure: Dean Pentcheff ::